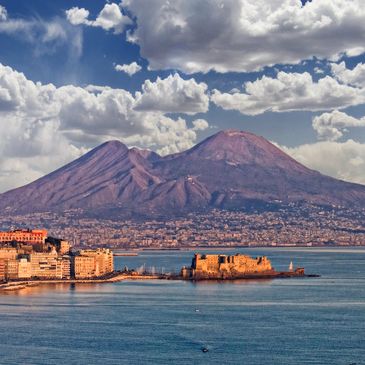 Naples Port is one of the main in Italy and the cruise gateway to Campania Region that you can visit on your own, or taking one of our private tours, where we will welcome you right in front of the ship and you will be immediately in one of our comfortable brand new Mercedes vans, starting a 9 hrs guided tour, to the destinations you choose throughout Campania Region (Pompeii, Sorrento, Positano, Amalfi, Ravello, Paestum, Vesuvius, Caserta, ecc).
Why to take a private tour with Shore Excursions in Italy.net: In most of the cases, you are first time visitors and you do not know where to go, what to do in such restricted time your shore excursion allows you, you do not want to be stressed by taking public transportation or being on a big bus with 50 additional passengers, that due to city entrance rules, have to park out of the city walls and then you have to walk to reach the city attractions, you want to make your vacation, the most profitable one: these are just ones to encourage you to take a private tour, being in the hands of a local driver guide, we are in this business since 1998, who will show you the best of the visited places, will give you tips where to go for lunch, shopping and visits and who will drive you back to the ship on time, safely, relaxed and satisfied!
Naples Shore Excursions:
THESE ARE JUST SOME OF THE MANY EXCURSIONS FROM NAPLES PORT. FOR ADDTL TOURS, HAVE A LOOK AT OUR
"SHORE EXCURSIONS IN ITALY TOURS" PAGE!!
While stopping at Naples Port, you will have the possibility to visit the most attractive towns and villages
of Campania Region like
Naples, Pompeii, Hercolaneum, Oplonti, Caserta, Sorrento and the Amalfi Coast towns of Positano, Amalfi and Ravello!!
Let us drive you to discover them!!
"Shore Excursions in Italy" will help you to plan the best itinerary to visit this amazing part of Italy!
POMPEII, SORRENTO AND POSITANO TOUR FROM NAPLES PORT
Suggested Tour:
(Please note that due to traffic jams your driver may change the order of the itinerary).

Our driver will Pick you up at 08.00 a.m. at Naples Port, by Mercedes or similar A/C Vehicle, waiting for you in front of the Ship, to drive you to the Amalfi Coast (Positano), Sorrentinan Coast (Sorrento) and in addition to Pompeii, for a wonderful 9 hours Guided Tour and at the end will drop you off again in front of the Ship:

You will be driven to Positano, along the Sorrentinan and Amalfi Coast, with some stops on the way for amazing pictures, this very nice Village whose name came from "Poseidon" (The Greek God). You will have free time to walk through the narrow street full of local fashion shops and outdoor cafes. From Positano, will drive back towards Sorrento, where you will visit the medieval section of the city with lots of shopping opportunities: Cameos, inlaid wood works, leather accessories, ceramics and the "Limoncello" Liquor. Your driver will give you tips where to go for a fantastic typical lunch (not incld) and the best "Gelato" (ice cream) in town.
After lunch, shopping and visit, will keep driving back towards Pompeii where you will spend 2 hours visiting the best roman town left, guided (if you like) by a local licensed Guide for a private Tour (Optional), who can be booked in advance (Tkt cost of Euro 16 each adult not incld).
At the end of the tour, around 04.30 p.m. you will be driven back to the Port of Naples and will be dropped off in front of the ship by 05.00 p.m.
ALREADY BEEN TO THE AMALFI COAST ? ASK FOR OUR NEW TOUR:
"UNDERGROUND NAPLES AND HERCOLANEUM OR POMPEII" !!!
The main town close to the Amalfi Coast is Salerno, the municipalities belonging to the coast are Vietri sul Mare, Cetara, Maiori, Tramonti, Minori, Ravello, Scala, Atrani, Amalfi, Conca dei Marini, Furore, Praiano and Positano. Very close to the territory of the coast (near Furore and Conca dei Marini) is it situated Agerola, located in the Sorrentine Peninsula and belonging to the Province of Naples.
Renowned for its rugged terrain, scenic beauty, picturesque towns and diversity, the Amalfi Coast is listed by UNESCO as a World Heritage Site.

We offer many different tours to the Sorrentinan Peninsula and the Amalfi Coast, some of them in addition to Pompeii.

The city of Pompeii is a partially buried Roman town-city near modern Naples in the Italian region of Campania, in the territory of the comune of Pompei. Along with Herculaneum, its sister city, Pompeii was destroyed and completely buried during a long catastrophic eruption of the volcano Mount Vesuvius spanning two days in 79 AD. The eruption buried Pompeii under 4 to 6 meters of ash and pumice, and it was lost for over 1,500 years before its accidental rediscovery in 1599. Since then, its excavation has provided an extraordinarily detailed insight into the life of a city at the height of the Roman Empire. Today, this UNESCO World Heritage Site is one of the most popular tourist attractions of Italy, with approximately 2,500,000 visitors every year.